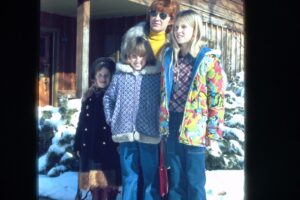 The 16-year-old girl pulled up her gym socks and tied her laces for basketball practice at St. Rose Auditorium in Great Bend, Kansas. It was a few days before Thanksgiving, and Alison Morrison's mind was far from basketball. She was about to become an orphan, and she knew it.
No memory of her father
Her Dad, Jack Morrison died of a heart attack at age 58 in Great Bend when she was four years old. Alison had no memory of him. But Alison's ability in sports came honestly, as her dad was a hoops and football star at Abilene, Kansas High School.  Alison's mother, Marlene Morrison, was a fine golfer, but that day– Monday, November 16, 1981–her mom, age 54, was dying of cancer.
Plan B: Sun Valley, Idaho
The three Morrison sisters, Kelly, 14, Alison, 16, and Tracy, 18 were attractive, popular girls in Great Bend schools.

They were athletic and had a wealth of friends. But they had one huge problem: their mom was dying. Becoming teenage orphans was inevitable. Fortunately, they had an plan: upon their mother's death, they would move to Ketchum, Idaho, to live with their half-sister Susan Curran and her husband, Jimmy.  Susan was much older, 32, and was a child of their late father Jack Morrison and his first wife, who died when Susan was 12.  Susan knew what it was like to lose a mother.
The three Morrison girls idolized Susan. She was a flight attendant for TWA and someone they wanted to be like. Ketchum, Idaho offered beautiful mountains and streams, along with rich and famous residents and tourists. Jimmy Curran and Susan enjoyed everything Sun Valley offered. Jimmy lived down the road from the Hemingways, and was a fly fishing companion of Jack "Bumby" Hemingway, one of the Pulitzer Prize winner's three sons. Ernest Hemingway had shot himself in Ketchum in 1961.
Idaho meant leaving the only thing they knew: Great Bend. Great Bend was flat, but sturdy, and they were established there. It was comfortable. But no place is comfortable when you are an orphan.  Basketball practice was well underway that day, with sounds of squeaking gym shoes and coaches whistles and the echoes from cavernous St. Rose Auditorium. And then a woman walked in and rocked Alison's already-shaky world.  A friend's mother walked into the basketball practice with a ominous look on her face. She motioned Alison to the sidelines and she told the 16-year-old the words she would never forget. "Your sister, Susan, was in a terrible car accident in Idaho. She probably isn't going to make it."
Alison was numb and didn't know what it all meant. When she got home to 1313 Cleveland, where her mom was in her bedroom dying of cancer, Alison heard the details.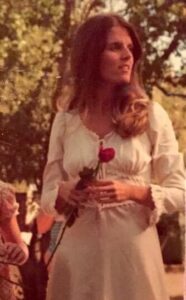 Susan (Morrison) Curran and her husband Jimmy Curran were driving near Hailey, Idaho on Sunday night, November 15, 1981, when a driver going the opposite direction was hauling a boat on a trailer hitch. The trailer hitch came disconnected and the boat and trailer hitch crossed into their lane.  Alison's brother-in-law, Jimmy Curran, was driving, and in an instant the trailer hitch speared the windshield on the passenger side, bludgeoning Susan's head.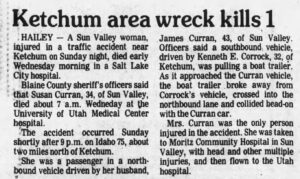 She was flown from the Moritz Hospital in Sun Valley to a Salt Lake City Hospital. Alison knew her future caretaker was seriously injured, but prayed that she would survive. Susan Curran died at 7:00 a.m. on Wednesday November 18, 1981, within 48 hours of the ill-fated basketball practice at St. Rose gymnasium. Alison and her sisters were dumbstruck. 
What are we gonna do now?
What are the odds of such a cruel twist of fate demolishing three girls who were already on edge? Two days later, on November 20,1981 they buried Susan's ashes at Great Bend Cemetery. It was a quiet ceremony, with only Trinity Lutheran Pastor Bob, Kelly, Alison and Tracy, and the widower Jimmy Curran and his friend Lloyd surrounding the gravesite. Marlene Morrison was too weak to go to the  burial. Susan was buried next to her Dad, Jack Morrison, a World War II hero and an administrator in the U.S. Department of Agriculture under Presidents Eisenhower and Kennedy.
The family returned to Great Bend, Kansas in 1969, after purchasing the house at 1313 Cleveland. Jack Morrison died of a heart attack at Central Kansas Medical Center within two weeks of their move, leaving behind his wife, Marlene, and three young daughters, ages two, four and six.
Allison knew her mom was very sick, but she prayed that her mom might miraculously recover. On Saturday night, November 21, 1981 the three girls, eager for a distraction, went to a Barton Community College basketball game at the encouragement of her mom, while friends took care of Marlene Morrison at home. 
The gymnasium at Barton County Community College was bigger than the old-school gymnasium where Alison heard the incomprehensible news that her sister was in a horrible car accident. She tried to watch the game, listening again to the sounds of the ball bouncing, and referees whistles.  Right in the middle of the game, just like the basketball practice a week earlier, an adult appeared with bad news. Jewel Chadd Broadfoot, a close friend of their mother, found the girls at the game and told them they needed to leave the game at once. Their mom had taken a sudden turn for the worse, and was dying at Central Kansas Medical Center.
A baby-faced 18 year old boy from Ellinwood, Kansas remembers seeing Alison and her sisters leave the basketball game abruptly. "There was a big commotion. The girls were crying. I saw them leave the game quickly," he says today, forty years later.  He knew Kelly, age 14, but had not met Alison. He had been admiring the pretty Morrison girls from afar during the game, and watched them leave in a panic. His name was Rod Harrington.
The desperate cry at the hospital bed
The girls were rushed to Central Kansas Medical Center, the same hospital where their Dad died in 1969. Standing by her mother's deathbed, Alison and Kelly, the two youngest girls, were hysterical. Alison shouted: "Mom, please don't die! Please don't leave us all alone!"  Alison and Kelly were so upset that the staff at CKMC made them leave the room and gave them a sedative. They walked alone to the family home, right behind the hospital. Marlene Morrison died early the next morning, on November 22, 1981, a week after Susan's fatal car accident.
There wasn't much to be thankful for on Thanksgiving four days later. But the girls had a half-brother, Hylton Glynn in Hoisington, a child of Marlene's first marriage. Hylton Glynn was married, and he and his wife moved into the house on Cleveland to help out. Ultimately, Jimmy Curran, the brother-in-law in Ketchum, Idaho decided to make good on the plans he and Susan had to move the girls to Idaho. Before the move to Idaho, a massive flood in Great Bend filled their basement, destroying most of the keepsakes and scrapbooks about their Dad.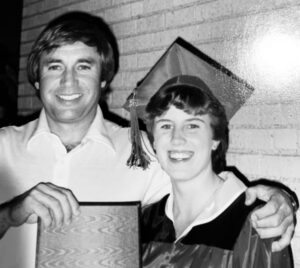 The girls finished the 1981-82 school year in Great Bend, and prepared to move to Idaho.  Kelly and Alison attended Ellinwood's After Harvest Festival in 1982, where Alison met youthful looking Rod Harrington. "He was wearing overalls with no shirt underneath," laughs Alison. Kelly had a crush on Harrington, but she was just 14.  Harrington was instantly taken with Alison, age 16, and lightning struck. The thing is, Rod Harrington was so small in stature and his face so childlike that the Morrison girls didn't know how old he was. In fact, he was 18, and a freshman at Barton College.
Harrington and Alison later saw each other "dragging Main" in Great Bend a few nights later, and they began dating. Alison would be moving to Idaho soon, so time for romance was short.  The girls moved to Ketchum, Idaho that summer for the 1982-83 school year. Ketchum's spectacular mountains and exotic vistas were not enough to keep Alison's mind in Idaho.  Alison desperately wanted to move back home. She missed her friends, but mostly, she missed the handsome and easygoing basketball fanatic Rod Harrington. The other two girls completed their education in Ketchum, Idaho. They missed Great Bend, but the vistas and famous friends were a good distraction.
I want Great Bend, not Sun Valley
Jewel Chadd Broadfoot helped make it possible for Alison to return to Great Bend for her junior and senior year, along with Bob and Dotty Keenan. Bob and Dotty Keenan asked Alison to live with them in their house on McKinney Lake on 17th Street while she finished school, and she took them up on the offer. The Lake McKinney sandpit was no Ketchum, but she loved it.  Alison wondered if she was cursed when she pulled up at Bob and Dotty's house one day and saw the house on fire.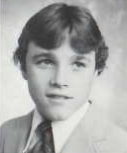 Accidents, cancer, floods and fires. But Alison took it in stride. They first lived with the Bob Blinn family on McKinney Lake while the Keenan house was restored from the fire, and then a house on 23rd until the homeplace was completely restored. In spite of the fire disruption, Alison found living with Bob and Dotty and Rodney, two years her junior, to be ideal.  She related to the Keenans  just like a family.
The gregarious Robert P. Keenan died in 2008, but not before serving as a spectacular surrogate father for Alison. While at KU and during her years teaching in Olathe, Alison considered the Keenan residence home for holidays and frequent visits. Alison married Rod Harrington on St. Patrick's Day, 1990, a fact not lost on the comical Irish-American Bob Keenan. "Bob and Dotty were so supportive," says Alison. They doted on Rod and Alison's three daughters, Abigail, Hanna and Emma. Meanwhile, Bob Keenan taught Rod Harrington how to cook. "He loved to cook pork tenderloins, and every time he showed me how, with the exact same words," Harrington laughs. "He insisted on lemon pepper and bacon," he said. While cooking, he would shout "Come here, Harrington," before giving Harrington the chef lessons. After Bob Keenan's death in 2008, Alison, Rod and their daughters loved travelling to Great Bend to see "grandma," and the visits were much appreciated.
"Who is Alison Harrington?"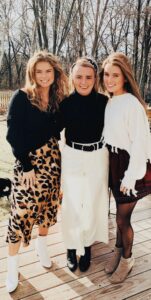 When Dotty Keenan died in 2020, many relatives asked me:  '"Who is her daughter listed in the obituary, Alison Harrington, of Olathe, Kansas? Who are these three granddaughters in Olathe?"' 1981 was a long time ago, and I was glad to share the sad but ultimately good story about the Morrison girls, and how Bob and Dotty took in Alison. Kelly and Tracy followed in the footsteps of their late sister, Susan, and became flight attendants, and worked their way up in the airline industry. Tracy is an Executive with Delta, while Kelly is a flight attendant with American Airlines.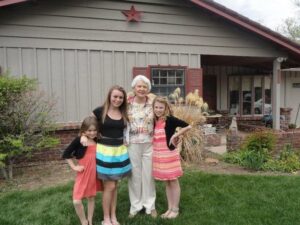 At Aunt Dotty's funeral a year ago, the three Morrison girls were there, all grown up. It was a sad occasion, but filled with gratitude. This burial at Great Bend cemetery was easier than most they had attended, as Dotty Keenan lived a long life, and her death was not a shocking event, but the loss of a lovely friend.  Alison and Rod attended the funeral with their three daughters, Abigail, Hanna and Emma.
Who was their Dad, Jack Morrison?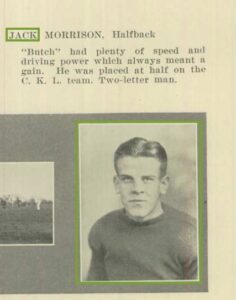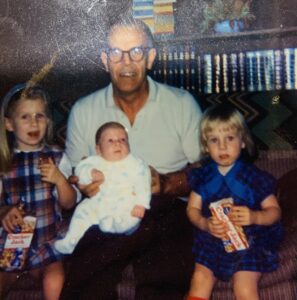 The three Morrison daughters have little to no memory of their late father, Jack Morrison. Lately, the daughters have learned more about their handsome, athletic father.  At Abilene High School he was the star quarterback and running back, known for his unusual quickness.
He was also a gifted musician, playing the clarinet and singing solos. He was reportedly headed to play football at KU, but was in a car wreck on April 27, 1930 with some fellow KU students and broke both of his legs. His injuries did not prevent him from becoming a fine golfer.  On October 21, 1942, before heading off to war, he scored a hole-in-one on the 139 yard  Tenth Hole at Stag Hill Golf Course.  He joined the Army in 1943, knowing that a friend from Abilene, Kansas was the Supreme Allied Commander. Jack Morrison rose to become the head of the U.S. Department of Agriculture in Kansas (then called "AAA"), and then easily upgraded to a position in Washington, D.C.  The Kennedy administration kept him on, and the girls treasure a personalized autograph picture from JFK to their Dad, one of the few keepsakes not lost in the Great Bend flood.
The sisters succeed against all odds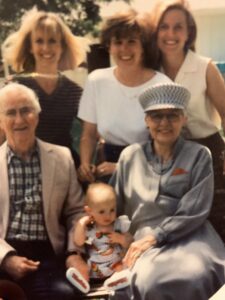 Most would say the Morrison girls had an extraordinary streak of bad luck early in life. But luck evens out over time, and the Morrison girls are doing just fine. Jimmy Curran, age 82, remains in Ketchum, Idaho, still teaching fly fishing, and remaining helpful to the three girls.